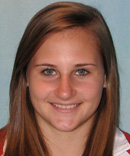 Birthdate:
11/12/1989

Program:
Women's Artistic

Level:
Senior

Current Residence:
Coconut Creek, FL

Club:
Genie's Gymnastics

Head Coach:
Andrea Bieger


Jana Bieger
Bieger was a replacement athlete on the 2008 U.S. Olympic Team. She won three silver medals (all-around, floor exercise and team competition) at the 2006 World Championships, the most by a U.S. athlete. She also took fifth on bars. Bieger's family (parents Andrea Bieger and Wolfgang Heiden) opened Bieger International Gymnastics in March 2007.
Hometown: Coconut Creek, FL
Year you began gymnastics: 1996
How did you get involved in gymnastics: I would play around in the gym in Germany from the age of 2 because my mom was a coach there. Then we moved to the United States and I started gymnastics at Level 3 with my mom.
Names of parents/guardians/spouse: Andrea Bieger and Wolfgang Heiden
Names of sibling(s): Brother- Nikolai
Family members in sports: My mom, Andrea Bieger was an Olympian in gymnastics for West Germany.
2009 Visa Championships, Dallas, Texas - 4th-UB; 6th-AA
2009 CoverGirl Classic, Des Moines, Iowa - 8th-VT, UB
2008 U.S. Olympic Team Trials - Gymnastics, Philadelphia, Pa. - 3rd-UB; 6th-AA, BB; 13th-VT, FX
2008 Visa Championships, Boston, Mass. - 4th-UB; 6th-AA, UB(T); 8th-BB
2007 Visa Championships, San Jose, Calif. - 7th-UB; 8th-AA, BB; 11th-FX
2007 U.S. Classic, Battle Creek, Mich. - 1st-UB; 2nd-VT; 7th-BB
2006 Visa Championships, St. Paul, Minn. - 2nd-VT; 3rd-AA, BB; 4th-UB; 5th-FX
2006 U.S. Classic, Kansas City, Kan. - 2nd-UB; 5th-VT(T); 9th-AA; 10th-BB
2005 Visa Championships, Indianapolis, Ind. - 3rd-AA, VT, UB; 4th-BB; 5th-FX
2005 U.S. Classic, Virginia Beach, Va. - 2nd-AA, UB; 3rd-BB, FX; 6th-VT
2004 Visa Championships, Nashville, Tenn. - 1st-VT; 3rd-AA; 5th-UB; 6th-FX (Jr. Div.)
2004 U.S. Challenge, Rochester, N.Y. - 1st-VT; 2nd-AA, FX; 4th-UB; 5th-BB (Jr. Div.)
2004 American Classic, Ontario, Calif. - 1st-VT; 2nd-AA, BB, FX, UB (Jr. Div.)
2003 National Championships, Milwaukee, Wis. - 3rd-VT; 5th-FX; 9th-BB
2003 U.S. Classic, San Antonio, Texas - 3rd-VT; 4th-AA, FX; 7th-UB; 9th-BB
2003 Podium Meet, Fairfax, Va. - 1st-VT; 2nd-AA; 3rd-BB; 4th-UB; 7th-FX
2008 Italy-Spain-Poland-USA competition, Jesolo, Italy - 1st-Team
2008 Pacific Rim Gymnastics Championships, San Jose, Calif. - 1st-Team, UB; 2nd-AA; 3rd-BB
2006 World Cup, Stuttgart, Germany - 1st-UB, FX; 6th-BB
2006 World Championships, Aarhus, Denmark - 2nd-Team, AA, FX; 5th- UB
2006 Pacific Alliance Championships, Honolulu, Hawaii - 1st-Team, VT, FX; 3rd-AA
2006 World Cup, Cottbus, Germany - 1st-VT; 2nd-BB; 3rd-UB
2006 World Cup, Cottbus, Germany - 1st-VT; 2nd-BB; 3rd-UB
2005 World Championships, Melbourne, Australia -
2005 Pan American Championships, Rio de Janeiro, Brazil - 1st-Team; 2nd-VT; 3rd-FX; 6th-AA
2005 USA/SUI, Maggligen, Switzerland - 1st-Team; 2nd-AA, BB
2005 USA/GBR, Lilleshall, Great Britain - 1st-Team; 2nd-VT; 3rd-AA, BB
2004 Olympiad Elite, Ensenada, Mexico - 1st-Team, VT, UB, FX; 2nd-AA
2004 Pacific Alliance Championships, Honolulu, Hawaii - 1st-Team, VT; 2nd-AA, BB (Jr. Div.)
Women: AA = All Around | VT = Vault | UB = Uneven Bars | BB = Balance Beam | FX = Floor Exercise | (T) = Tie
Men: AA = All Around | FX = Floor Exercise | PH = Pommel Horse | SR = Still Rings | VT = Vault | PB = Parallel Bars | HB = Horizontal Bars | (T) = Tie
Rhythmic AA = All Around | RP = Rope | HP = Hoop | BA = Ball | CL = Clubs | RB = Ribbon | (T) = Tie
Acrobatic: DY = Dynamic | BL = Balance | AA = All Around/Combined
T&T: TR = Trampoline | TU = Tumbling | DM = Double Mini | SY = Synchronized Trampoline
Parkour: FS - Freestyle | SP = Speed