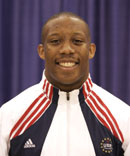 Birthdate:
9/1/1986

Program:
Trampoline & Tumbling

Level:
Senior

Current Residence:
Porter, TX

Club:
World Champions Centre


Jeffrey Brown
Jeffrey is the son of Anthony and Cheryl Brown. He has an older brother named Anthony and two younger sisters, Alesia and Jasmyne, who also compete in trampoline and tumbling.
Hometown: Huntsville, AL
Degree/Major: Business Administration
What are your goals for gymnastics?: My goals are to win more national and world championships than any American tumbler and to set the American difficulty record for tumbling.
Favorite school subject: theatre
Favorite music: R&B, pop and rap music
Favorite TV show(s): In Living Color
2009 Visa Championships, Dallas, Texas - 2nd-TU
2009 U.S. Elite Challenge, Ft. Smith, Ark. - 2nd-TU
2007 National Championships, Memphis, Tenn. - 2nd-TU
2007 U.S. Elite Challenge, Colorado Springs, Colo. - 2nd-TU
2007 Winter Classic, Lubbock, Texas - 3rd-TU
2006 U.S. Championships, Schaumburg, Ill. - 3rd-TU
2005 U.S. Championships, Houston, Texas - 6th-TU
2005 U.S. Elite Challenge, Phoenix, Ariz. - 4th-TU
2004 Visa Championships, Nashville, Tenn. - 1st-TU; 9th-TR
2004 U.S. Elite Challenge, Birmingham, Ala. - 4th-TU, DM; 15th-TR
2004 Winter Classic, Salt Lake City, Utah - 4th-TU; 5th-TR; 15th-DM
2003 Junior Olympic Championships, Sacramento, Calif. - 8th-DM
2002 U.S. Championships, Cleveland, Ohio - 5th-DM; 8th-TU; 15th-TR
2002 Carolina Classic, Greensboro, N.C. - 3rd-TU
2000 Junior Olympic Championships, Cincinnati, Ohio - 1st-TU, DM; 8th-TR
1999 U.S. Championships, Anaheim, Calif. - 3rd-TU; 4th-TR; 6th-SY; 7th-DM
1997 U.S. Championships, Orlando, Fla. - 1st-TU, DM; 2nd-TR (Jr. Div.)
1996 U.S. Championships, Phoenix, Ariz. - 2nd-TU; 8th-TR; 9th-DM (Jr. Div.)
2009 World Championships, St. Petersburg, Russia -
2007 World Championships, Quebec City, Quebec, Canada - 5th-Team (TU)
2007 World Cup, Lake Placid, N.Y. -
2002 Canadian Youth Cup, Edmonton, Alberta, Canada - 2nd-TU
0000 World Age Group Games, Sun City, South Africa - 13th-DM
Women: AA = All Around | VT = Vault | UB = Uneven Bars | BB = Balance Beam | FX = Floor Exercise | (T) = Tie
Men: AA = All Around | FX = Floor Exercise | PH = Pommel Horse | SR = Still Rings | VT = Vault | PB = Parallel Bars | HB = Horizontal Bars | (T) = Tie
Rhythmic AA = All Around | RP = Rope | HP = Hoop | BA = Ball | CL = Clubs | RB = Ribbon | (T) = Tie
Acrobatic: DY = Dynamic | BL = Balance | AA = All Around/Combined
T&T: TR = Trampoline | TU = Tumbling | DM = Double Mini | SY = Synchronized Trampoline
Parkour: FS - Freestyle | SP = Speed