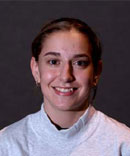 Birthdate:
10/28/1986

Program:
Trampoline & Tumbling

Level:
Senior

Current Residence:
Lubbock, TX

Club:
Air Extreme

Head Coach:
Brad Davis


Amanda Bailey
Amanda is the daughter of Jackie and Melinda Bailey. Her two younger sisters, Samantha and Rebecca, also participate in T&T. Amanda's favorite actor is Elijah Wood, and her favorite actress is Meg Ryan. Her plans for the future are to become a coach and work with kids. Amanda's role model is Karen Cockburn, "just because she is an amazing athlete and she has worked hard to achieve her goals."
Hometown: Lubbock, TX
Year you began gymnastics: 1997
Favorite Event: Trampoline
Favorite thing about gymnastics: I love that I get to travel all over the world. Also, the friends that I have made in this sport are priceless.
Names of parents/guardians/spouse: Jackie and Meilnda Bailey
Names of sibling(s): Samantha and Rebecca Both compete in T&T.
Favorite school subject: science
Hobbies or favorite activities: reading, being outdoors
Favorite music: Matchbox 20, Maroon 5
Favorite book(s): Harry Potter series, Lord of the Rings trilogy
2008 Final Selection Event, Kansas City, Kan. - 5th-TR
2008 Visa Championships, Houston, Texas - 5th-TR
2008 U.S. Elite Challenge, Mobile, Ala. - 5th-TR
2008 Winter Classic, Tulsa, Okla. - 4th-TR
2007 Winter Classic, Lubbock, Texas - 2nd-TR, SY
2006 U.S. Championships, Schaumburg, Ill. - 1st-SY; 3rd-TR
2005 U.S. Elite Challenge, Phoenix, Ariz. - 2nd-TR
2005 Winter Classic, Fort Smith, Ark. - 2nd-TR
2004 U.S. Elite Challenge, Birmingham, Ala. - 5th-TR
2003 U.S. Championships, Sacramento, Calif. - 2nd-TR (Jr. Div.)
2002 U.S. Championships, Cleveland, Ohio - 1st-DM; 10th-TR (Jr. Div.)
2001 U.S. Championships, San Antonio, Texas - 5th-SY; 11th-TR (Jr. Div.)
2000 U.S. Championships, Cincinnati, Ohio - 1st-SY; 3rd-TR, DM (Jr. Div.)
1999 U.S. Championships, Anaheim, Calif. - 5th-SY; 28th-TR (Jr. Div.)
2008 Grenzland Cup, Aachen, Germany - 8th-TR
2007 World Championships, Quebec City, Quebec, Canada -
2007 World Age Group Competition, Quebec City, Quebec, Canada - 3rd-DM (Jr. Div.)
2007 World Cup, Lake Placid, N.Y. -
2007 World Cup, Quebec City, Quebec, Canada -
2006 World Cup, Salzgitter, Germany - 9th-SY
2006 Pan American Championships, Pan American Championships, Mexico - 1st-Team; 4th-TR
2006 World Cup, Savognin, Switzerland - 10th-SY; 17th-TR
2006 Grenzland Cup, Aachen, Germany - 9th-TR
2005 Flower Cup, Aalsmeer, Netherlands - 4th-TR
2003 Canada Cup, Oakville, Canada - 5th-TR
2002 World Cup, Greensboro, N.C. - 7th-TR (Jr. Div.)
2002 Canadian National Championships, Red Dear, Canada - 6th-TR
0000 Flower Cup, Amsterdam, Netherlands - 12th-TR
Women: AA = All Around | VT = Vault | UB = Uneven Bars | BB = Balance Beam | FX = Floor Exercise | (T) = Tie
Men: AA = All Around | FX = Floor Exercise | PH = Pommel Horse | SR = Still Rings | VT = Vault | PB = Parallel Bars | HB = Horizontal Bars | (T) = Tie
Rhythmic AA = All Around | RP = Rope | HP = Hoop | BA = Ball | CL = Clubs | RB = Ribbon | (T) = Tie
Acrobatic: DY = Dynamic | BL = Balance | AA = All Around/Combined
T&T: TR = Trampoline | TU = Tumbling | DM = Double Mini | SY = Synchronized Trampoline
Parkour: FS - Freestyle | SP = Speed